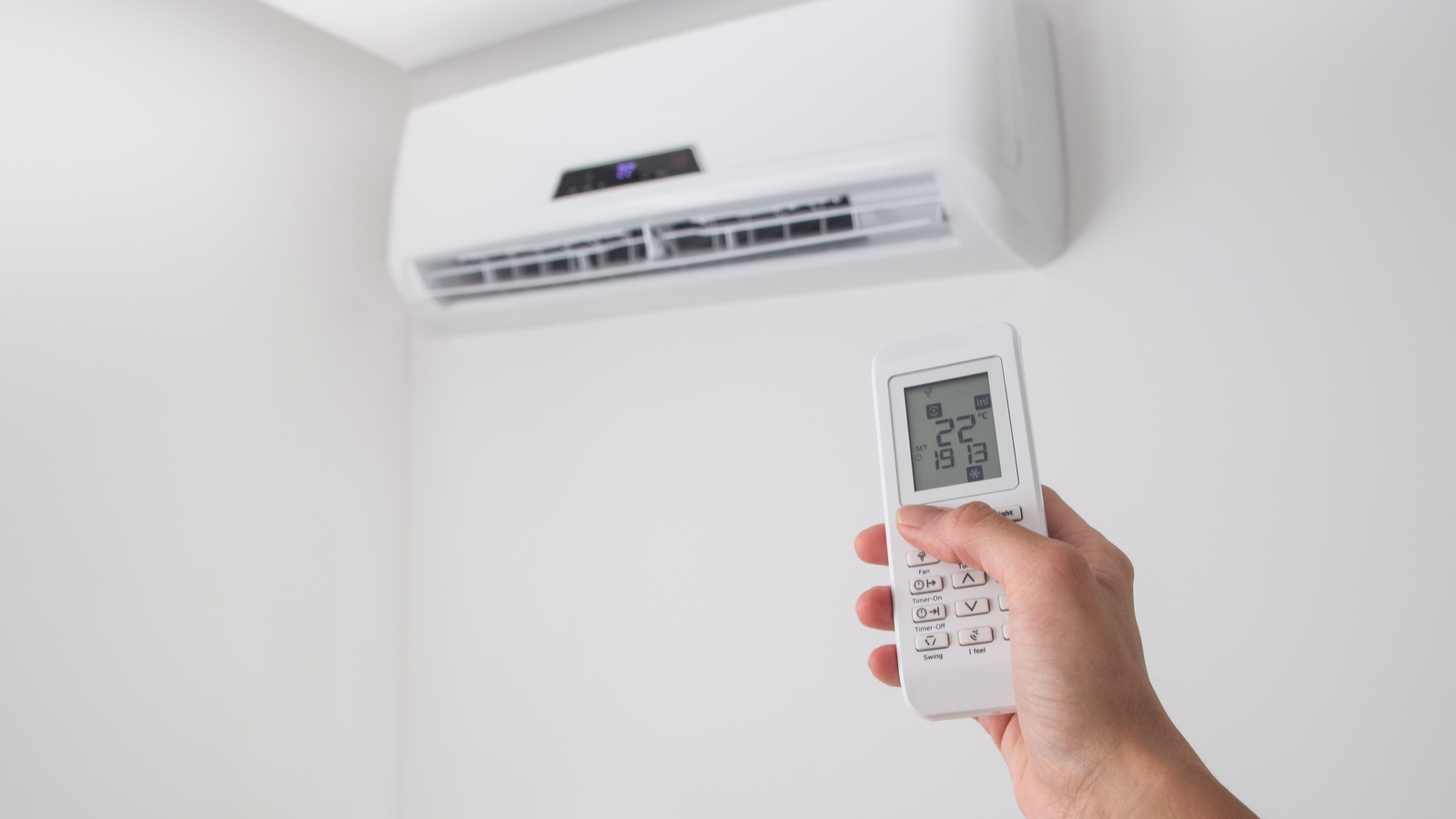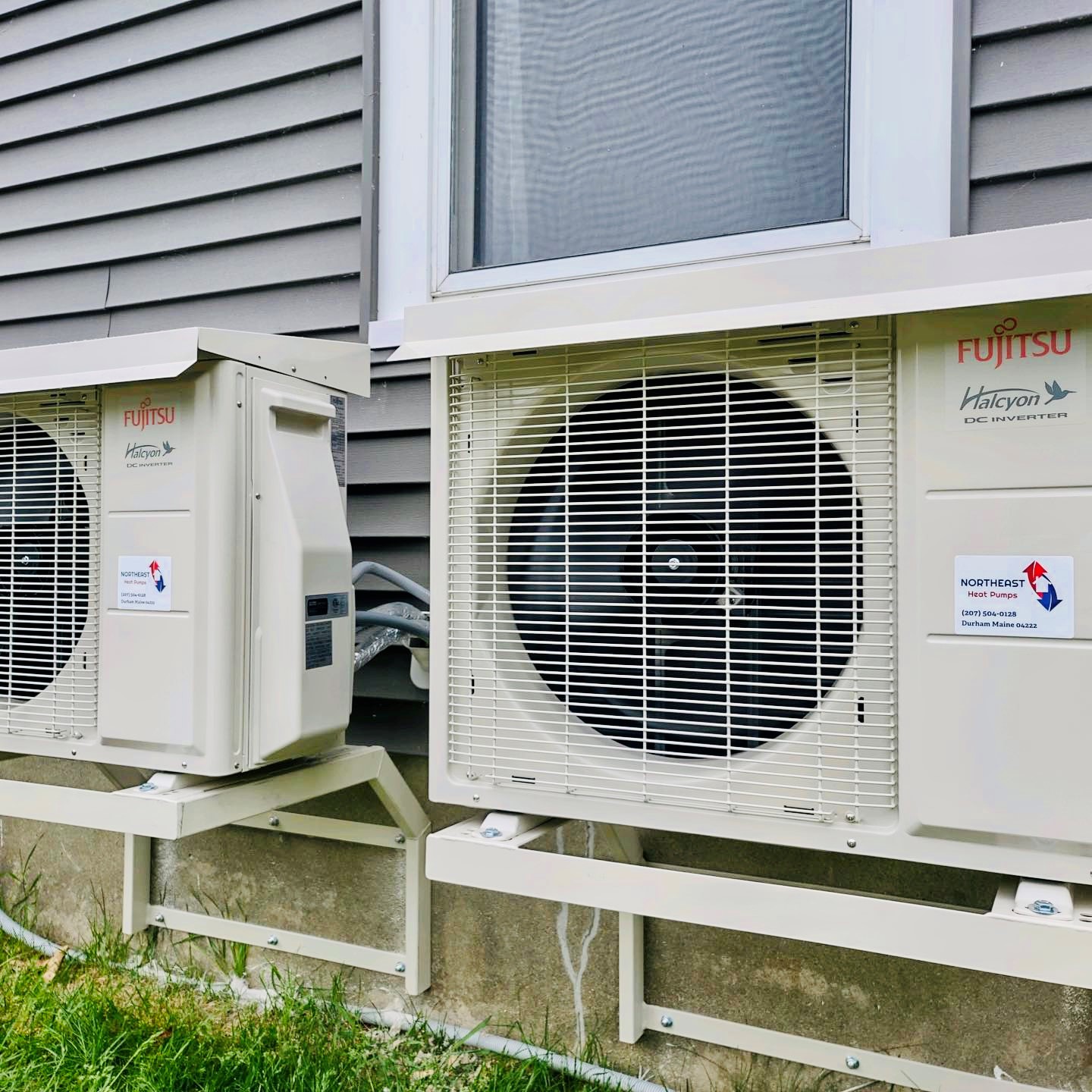 A heat pump is a heating and air conditioning system comprised of an outside condenser and an inside evaporator, which alternately takes the hot or cold air from the outside and transfers it to the inside (or vice-versa, depending on which mode the unit is on-heating or cooling).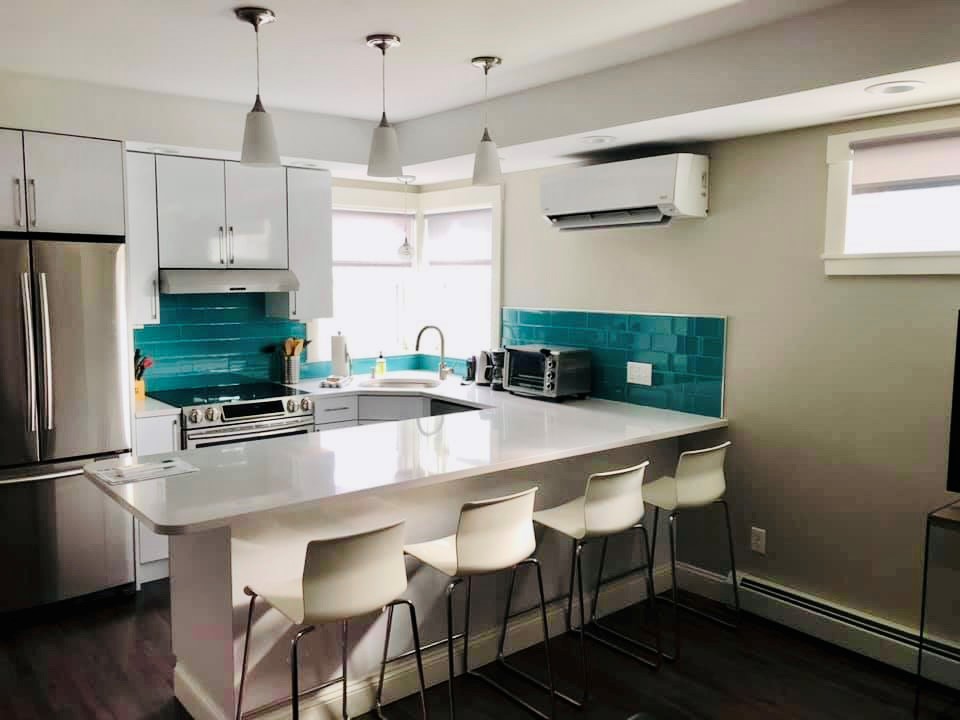 What else can heat pumps do beyond heating?
High- Efficiency heat pumps perform the same functions as five different appliances: heaters, air conditioners, dehumidifiers, ceilings fans, and room air filters.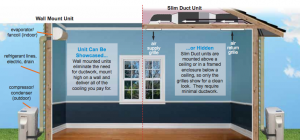 The heat pump contains a very cold refrigerant liquid in the outside condenser (-40 degrees Farenheit) that absorbs heat molecules from the outside air and transfers them through the inside unit. Imagine we have a shoe box that is -20 F inside, it is 100 cubic inches and has 20 heat molecules evenly spaced out. If we were able to extract the same twenty heat molecules and place them in a smaller space the tempature would rise because the molecules would be closer together. The same would be true if we were to close the sides of the shoe box in. These systems, by way of absorption, move the abundant heat molecules from the outside air to the small-in-comparison homes we live in.
Do I need to replace my current heating system if I want to use a heat pump?
No. Though high- efficiency heat pumps may be configured to work as the sole heating system, they are often used to supplement an existing system (for example, by installing a heat pump in one room and using the central oil boiler system to heat the rest of the building).
The price of each unit fluctuates and there is a wide range of products so pricing varies as well.  All quotes we do include the labor and materials required to install the unit.  Depending on the size of the home, its heating requirements, layout and floor plan, and any existing installation, additional units may be required to optimize heat usage and savings.  One of the many advantages of installing a heat pump system in your home is that should you need multiple units, installation can occur in stages, one unit at a time, to take the sting out of the cost of installing multiple units at one time.  
Efficiency Maine is now offering rebates through the Home Energy Savings Program on the installation of eligible high efficiency ductless heat pumps.  Some models are eligible for rebates ranging from $400.00 to $800.00.
Is there a temperature below which a conventional heating system is cheaper to run than a heat pump?
Yes. Using 2022 energy prices, oil is more expensive than heat pumps above negative 1F and propane is more expensive above negative 11F. Switching to oil or propane below these temperatures and then failing to switch back to heat pumps exactly when temperatures exceed these points could end up costing more. Therefore, we recommend against switching back and forth.
*Assumptions: Oil at $3.86/ gal, 87% combustion efficiency, and 80% distribution efficiency. Propane at $3.43/ gal, 90% AFUE, and 80% distribution efficiency. Electricity at 22 cents/ kwh, heat pump COP= 2.93, and 100% distribution efficiency. 80MMbtu/yr heating load.
Will a Heat Pump look ugly inside my home?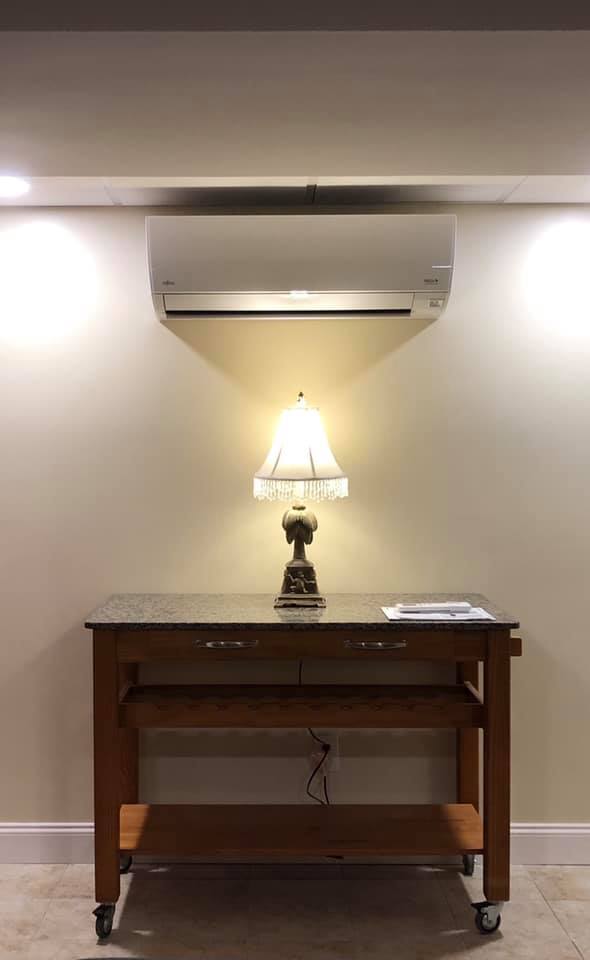 A heat pump can easily blend into the interior of your home. We will work with you to make sure that we place the interior evaporator where it works best for air flow and appearance.
I want to learn more about Heat Pumps
Listen to these podcasts by Dore Woodman: Click Here
Is the Outside Condenser unit ugly and obtrusive?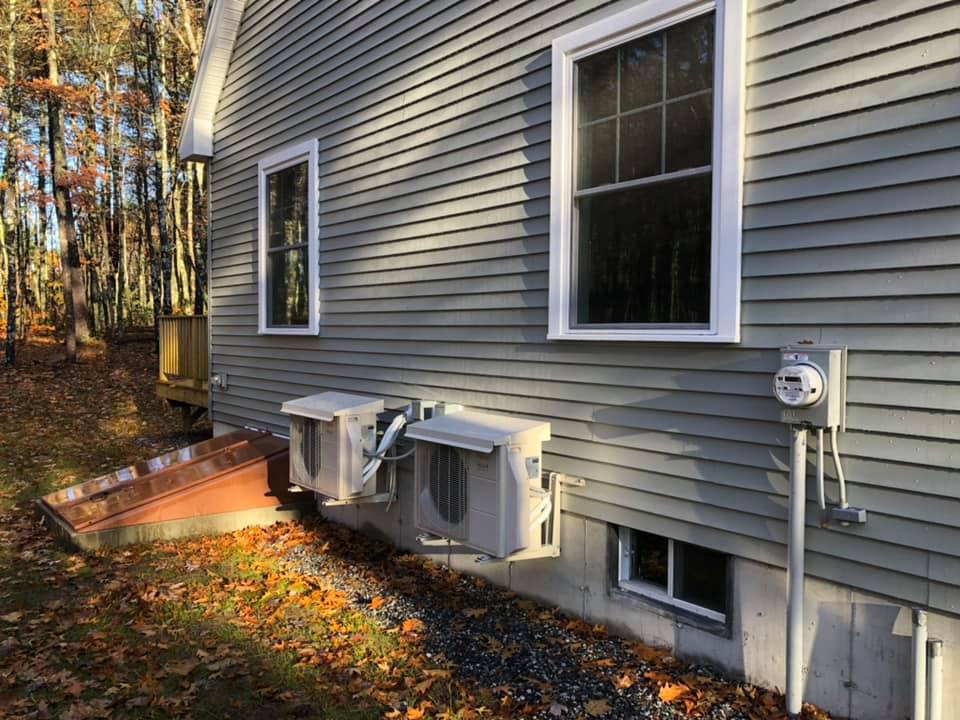 The condenser on this home can be found in the lower left corner of the back of the house. We work with the property owners to place the condenser in an area that meets the operational requirements and appeals to the owner as well.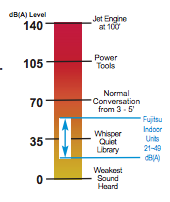 The Fujitsu heat pumps we install run at approximately 45 decibels, equivalent to a person's whisper. You will likely not notice your heat pump any more than you would your refrigerator when it cycles.
What if I have more technical questions?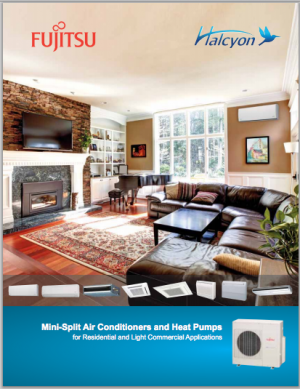 You are welcome to download the Fujitsu brochure here
or you can contact us for more information!
What is the Cost Comparison for Home Heating
Do heat pumps work in cold weather?
Yes. All models that Northeast Heat Pumps install continue to operate in any Maine weather including cold weather. Some models are equipped to operated as low as -15 degrees F.
Why we don't install two evaporators on different floor levels on one condenser?
We at Northeast Heat Pumps do not install a multi- zone heat pump with the interior evaporators on different floors of a home or office building. The reason is because if that single condenser ever has an issue and goes down both interior evaporators will not operate while that condenser is out of service. Additionally, each floor of a home or office building typically has different heating/ coolings needs. When installing a multi zone system both the interior evaporators need to remain on the same setting (Heat, Cool, Dry, Fan etc.) if one of the evaporators is on a different setting the entire system will either recieve an error code or will stop working. Lastly, and a more technical reason is if during the installation there needs to be a longer line-set installed for one of the units verse the other unit the system will not operate as efficiently as should since it will need to work harder to push the refrigerant through the system to get to the longer run line-set for that particular evaporator. 
Why we don't quote bigger Heat Pump BTU's than what is needed for a space
When we are doing a walk through of your space we are there to get a sense for how big the area is that you are trying to heat/cool. Each space is different and we tailer our installs to the customers needs. Each BTU unit has a square footage area that it can comfortably cover. If you put a larger unit into a small room it will not run properly and will what we call "short cycle." For example, if you put an 18,000 BTU unit into a 10x10 bedroom that unit will be so powerful pushing the air out of the unit that the air being pushed out will bounce off all the walls and return back to the machine which will register that the space has already been heated/cooled to that specified temperature and the fan will stop running (short cycle).
Why we don't install any other unit except Wall Mounted ductless mini split heat pumps
We are numbers people here at Northeast Heat Pumps. We believe in installing the most efficient system in the most efficient way possible to ensure customers are getting the most bang for their buck. What we have found based on efficiency ratings given to us by the manufacturers of these systems is that single zone wall mounted units are the MOST efficient model produced. Each brand we install (Daikin, Fujitsu & Mitsubishi) all have their own efficiency ratings and each wall mounted model have their pros and cons but what we have found is that systems such as floor models and ceiling ducted cassettes are not as efficient (rating wise) compared to the wall mounted single zone units. Even multi-zone units have a slightly lower efficiency rating than the single zone units.
Can heat pumps produce enough heat for an entire home or business?
Yes. They can heat entire homes or businesses as long as they are located and sized properly.
Can I offset household carbon emissions by using a heat pump?
Heat Pumps use electricity to heat your home, so their carbon footprint depends on the power generation that serves the regional energy grid. The mix of generation that serves the grid in Maine is among the cleanest in the country. If you have a heat pump that offsets just one third of your home's annual heating load, and if you heat with oil like most Mainers, the heat pump would eliminate 2,400 pounds of CO2 per year, the equivalent of eliminating the carbon pollution from three months of average driving. The more your heat pump offsets your home's heating from fossil fuels, the more you will reduce your carbon emissions.
Why does my heat pump briefly stop producing heat in cold weather?
In cold weather, heat pumps will occasionally run through a short defrost cycle to remove ice from the outdoor unit. When this happens, the heat pump temporarily stops producing heat. The defrost cycle lasts for only a few minutes and is part of the normal operation of a heat pump.
Why does my heat pump make an occasional gurgling noise?
The indoor and outdoor units of a heat pump are connected by copper pipes that carry refrigerant between the two. As the refrigerant moves through the pipes, it can produce a gurgling sound. This sound should not be cause for concern. It is part of the normal operation of a heat pump.
Northeast Heat Pumps serves the following counties:
Androscoggin
Cumberland*
Kennebec*
Lincoln*
Sagadahoc*
York*
*RESTRICTIONS DO APPLY. PLEASE CLICK HERE TO SEE IF WE SERVICE YOUR AREA.